Sydney's most famous beach: Bondi


Darlings! No serious blog posting about Sydney would be complete without a word or two about its wonderful beaches! You probably don't know this but La Diva is quite the little mermaid and would happily live her entire life in the sea if she could. So, the next best thing was to live in Australia, a huge island continent surrounded completely by wonderful water! Here's a small sampling of just some of La Diva's favourite Sydney beaches!
One time when I was living in Sydney, a friend visiting La Diva from Chicago asked me just how many beaches there
were
in Sydney? Well, darlings, quite a few. There are the beaches on the North shore (north side of the Sydney harbour bridge), Eastern suburbs (where Bondi is) Southern Beaches (Cronulla, Maroubra) and of course the harbour beaches as well. (Watson's Bay) In fact, I literally counted over 27 beaches within a few miles of downtown Sydney!!! With numbers like that, darlings, its no wonder the Sydney culture and lifestyle revolves around the sea!
From Bondi, you may head south and take the Bondi/Tamarama cliff walk down to Tamarama Beach. With sweeping vistas and plunging sandstone cliffs, this trail along the eastern coast was one of La Diva's favorite hikes as well as a refreshing way to keep fit! In fact, DJ Nevah L8 was romantic enough to propose to La Diva on the cliff top overlooking the sea there years ago! Sigh.....
Sculpture by the sea!
Every year artists from all over the world partake in
Sydney's Sculpture by the Sea!
In early spring (that's September through November in the Southern hemisphere, darlings!) FABULOUS sculptures emerge all over the 2 kilometer walk from Bondi to Tamarama.
Tamarama beach
Tamarama beach, also known fondly by locals as GLAMOURAMA beach, is a wonderful spot to check out the eye candy! Known to be THE playground for local models, one can savor a snack and a smoothie at the kiosk while taking in ALL of nature's purest beauty.
Ahem. Now, where were we? Ah yes, let's go a bit further south to Bronte Beach!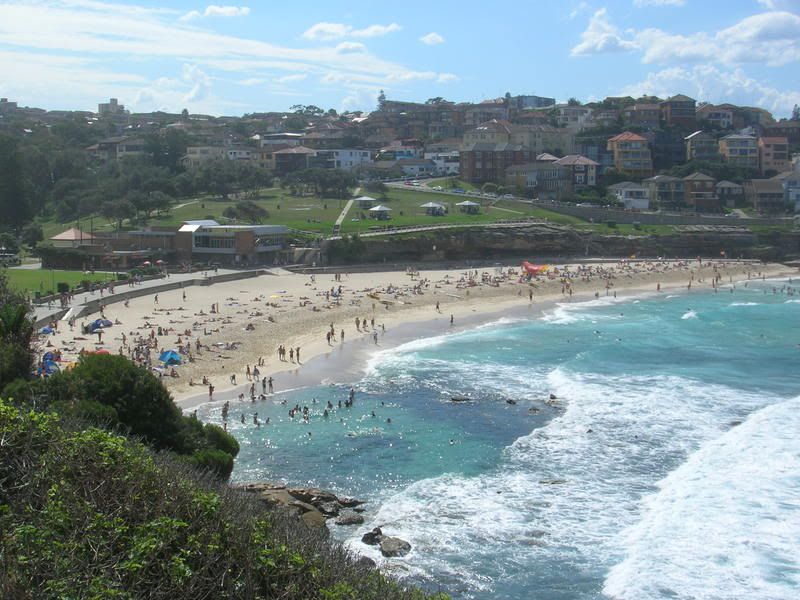 (You MUST click on this to appreciate!)
Bronte beach
Darlings, Bronte beach brings back so many wonderful memories for La Diva as she and DJ Nevah L8 spent many Sundays there, picnicking on the luscious lawns of the park and feasting on finger-lickin' fish and chips loaded with salt and malt vinegar. In particular, DJ Nevah L8 found Bronte to be one of his favourite beaches to go and "have a bash" (body surf) while La Diva would get knocked about the shoreline in the waves like a little shell.
Sydney's Rock Pools

At many beaches in Sydney you not only have the surf to enjoy the fresh sea water in but also in their rock pools. Man-made, the pools are generally built right into the rock on one side of the beach. The pools are fairly shallow and allow swimmers to do laps, lounging ladies to wade without waves and tots can paddle about and avoid becoming shark snacks!
An exhilarating way to enjoy the surf is to stand along the sides of the rock pools, hanging on to the chains, while wild waves rip over you! Giggling with delight, La Diva found this pastime thrilling to engage in when conditions were ripe!
(Click to see the entire beach, darling!)
Maroubra beach
When La Diva moved to an inner west suburb of Sydney, she found that by heading directly east the closest beach would also be the toughest beach: Maroubra. Known for it's territorial local
surfies,
this is one of the best beaches in Sydney to catch the big kahuna.
And finally, darlings, this "finger-shaped" beach was our all-time favourite spot to go snorkeling! When the tide is high, La Diva and DJ Nevah L8 would gather our gear and make haste to this lovely little gem of a beach for a sensational swim with the fishes. Paddling along the wall out to the sea, you'll find an amazing assortment of colourful marine life and if you are lucky, by the time you get to the end, you will see the giant grouper. He's lived there for years and can be quite scary if you come upon him for the first time.
Ahhh....aren't they all just DIVINE?! La Diva CAN'T WAIT to get her little tootsies in the southern Pacific again! Darlings, I
do
hope you enjoyed our little trip to my favourite beaches of Sydney! However, this was just a mere smattering of the beaches I used to frequent, it really
doesn't even begin
to cover the North shore beaches that La Diva went to with DJ Nevah L8 when their love affair was only but a hot little spark! (like Manly, Curl Curl, Dee Why, Balmoral and Fairy Bower!) So watch this space for more Australian postings! Bye for now, love!
cooking class, cocktails, parties, cocktail party, Miami, coral gables, events, bartending class, cocktail class, Laura Lafata, Miami Beach, miami cooking classes, bachelorette parties, bachelorette party